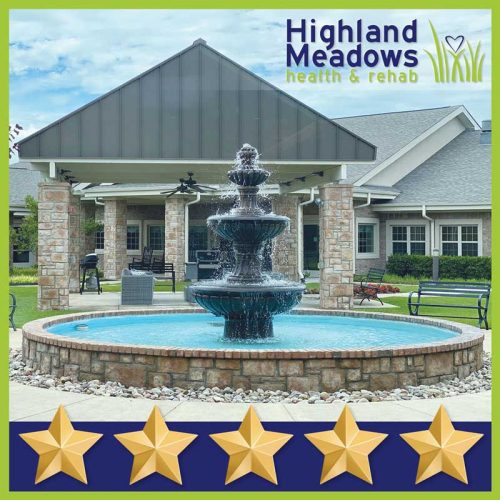 ROCKWALL, TX (August 1, 2021) Highland Meadows Health & Rehab, Rockwall's premier skilled nursing and long term care facility, is excited to announce they've been awarded five stars, the highest quality rating possible from CMS.gov (Centers for Medicare & Medicaid Services).
CMS created the Five-Star Quality Rating System to help consumers, their families, and caregivers compare nursing homes. The overall rating is based on performance of health inspections, staffing, and quality of resident care measures.
This good news comes at the same time readers of Living Magazine voted Highland Meadows the Best Rehabilitation Center in Rockwall and Rowlett. Highland Meadows' in-house rehab department comprises skilled professionals who are employees – not contracted – another distinction that sets this facility apart from others. The gym is spacious and filled with the latest, high-tech equipment; and there is also a dedicated room that serves as a simulated home environment, complete with kitchen appliances, washer and dryer – for functional therapy.
"We work to ensure that each patient achieves the best possible outcome in the shortest period of time," said Gracen Hawley, LNFA, MA, CCC-SLP, Owner/Administrator of Highland Meadows. "The average stay for most of our rehab patients is 17 days, far below the national average. We combine that with the individual care, guidance and support they deserve."
Located at 1870 S. John King Blvd., the 120-bed, privately owned and operated facility serves long-term residents and short-term rehab patients. They are committed to healing, helping, and improving quality of life for those in their care by focusing on patients' physical, spiritual and emotional well-being.
Strikingly beautiful, immaculate and spacious, the state-of-the-art facility provides skilled nursing and comprehensive rehabilitation programs including inpatient and outpatient physical therapy, occupational therapy, speech language pathology, IV therapy, and a myriad of other services as needed. Their professional, licensed care team specializes in stroke recovery, orthopedics, wound care management, pain management, post-surgical rehab, and Diabetes. A physician makes rounds seven days a week, and their Medical Director, Dr. Tony Bui, is a licensed, board-certified Physiatrist who offices onsite Monday through Friday.
Highland Meadows also recently introduced new members of its professional care team, including Dr. John Paul Benavides, DO, who specializes in pain management; Dr. Claire Brenner, MD, board certified Infectious Disease Specialist; Dr. Yousef Abou-kayya, MD, board certified in Pulmonology, Internal Medicine, Critical Care, and Sleep Medicine; as well as Hiruy Berta, RN, BSN, who serves as Director of Nursing.
Highland Meadows also has its own in-house lab, dramatically decreasing the time it takes to draw and process state lab results. They recently introduced their own in-house pharmacy, giving patients access to the medications they need, when they need it.
Inside Highland Meadows you'll find fully furnished living suites, spacious private and semi-private rooms with flat screen TVs and internet access, clean and luxurious restrooms, a community dining hall with chef-prepared meals and specialized menus, activity areas, a beauty salon and barber – all situated on gorgeous grounds in Rockwall.
Monthly activities like Bingo, Bible study, choir, worship services, group exercise, men's group, dance parties and ice cream socials help keep residents engaged. Transportation services are provided to ensure patients can get to their follow-up doctor appointments.
Highland Meadows is now in-network with all United Health Care plans including UHC Commercial, AARP, Secure Horizons, Wellmed, Silverback, and UHC Medicare Advantage. This is in addition accepting Medicare, Medicaid, private pay, private insurance, Humana PPO, Blue Cross Blue Shield, Aetna, Baylor, Scott & White and WellMed.
To learn more about Highland Meadows, call 972-722-7408 or visit their website at highlandmeadowshealth.com. Follow all of their activities and events on Facebook and Instagram.