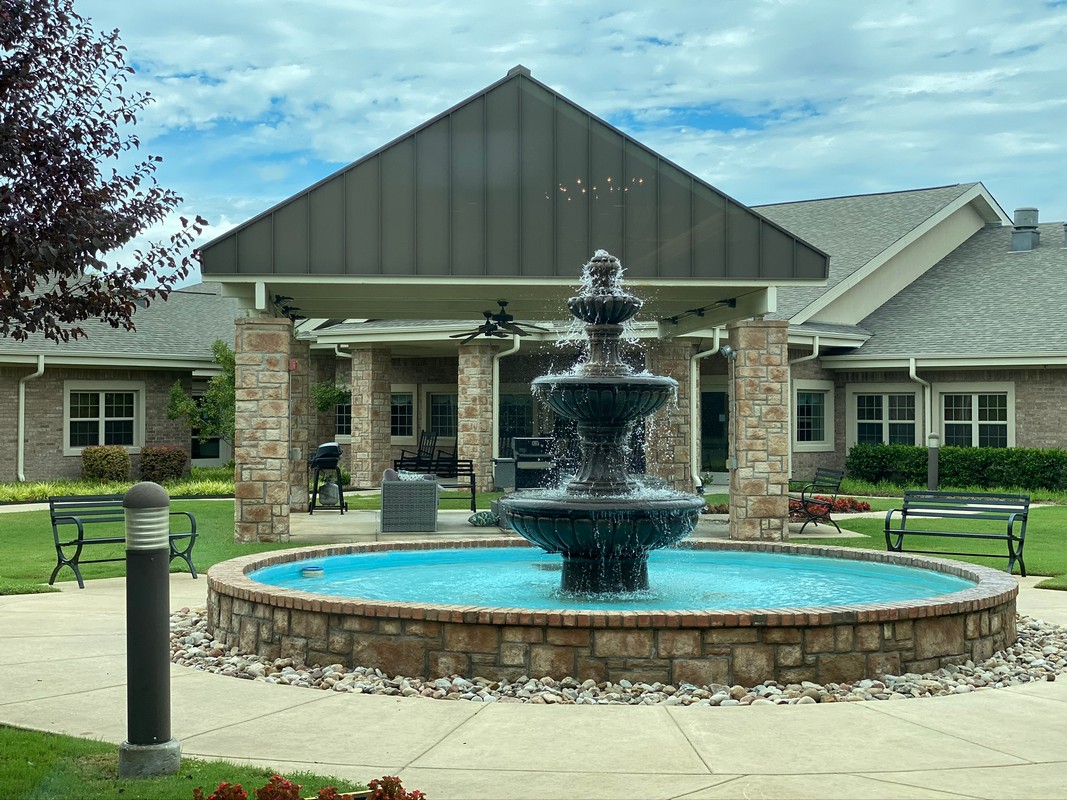 With two 90+ year old mothers to care for, I have had a large amount of history with different rehabs. Highland Meadows has reached 5-stars for excellence in the areas of work ethic, responsibilities, compassion, energy and absolute love…Thank you for caring for my Jean Ammons like she was family!
~ Aljean
I do hope none of you reading this review will need rehabilitation, but if you do, I recommend Highland Meadows beyond all others. I have been in rehab prior to this visit but the comparison is non-existent. Highland Meadows is a complete system – from the directors and doctors to the housekeeping staff. My rehab was amazing and what I learned from the therapist staff is above and beyond…they have returned me to a confident, active senior. Not only is my body working well but my state of mind is positive and looking to many more years of activity. Thank you, Highland Meadows, from the bottom of my heart.
~ Barbara Ann White Ray
We put my mom here following spinal fusion surgery and had a great experience. The culture and attitude combined with top level capability of the staff top to bottom exceeded our expectations. Mom is now home and doing very well thanks to this group.
~ Michael Hicks
My mother-in-law was a Highland Meadows for three weeks after a fall. The nurses took good care of her. We saw the doctor weekly and he was very responsive to phone calls. The best was the therapy group, led by their Director, John. They were extremely helpful and patient. They got to know my mother-in-law personally and discussed her goals, not only with her but with us as a family. Their daily PT and OT provided her with what she needed to go home quickly.
~ Debbie E.
My mom stayed two years ago. Incredible caring staff, doctors checking on her several times a week, family could come 24 hours stay overnight in her room, I even brought my grand children to stay overnight. Today we are faced again with a need for physical therapy for my mom and this is where we want her to be.
~ Jaquelyn Haigler
I cannot say enough good things about this place. My father who turned 95 when he was first admitted after having Covid. He was close to death several times but they never gave up on him. This facility has the best entire team from administration to the healthcare & PT department I am happy to say he was walking when he came home. They help build him back up through loving, caring & great rehabbing. The personal attention that my dad received was nothing less then a total blessing.
~ Viki Hall
My mom took a fall and broke her patella at 82 years young. After intense rehab with the Highland Meadows rehab team, she's back on her feet and living life as before the fall. My mom always tell me that the rehab team is her family. They pushed her to be her best self but with a gentle spirit. She always asks to go visit them. She truly misses their heart and care they provided for her.
~ Carla Carroll
Wonderful facility! Caring staff and good food. This is a clean comfortable environment and our family has been so happy.
~ Greg Loudermilk
This facility is nothing short of amazing! The care and attention they provided to my mother-in-law was exceptional! It's such a wonderful family atmosphere. The staff is so professional and friendly which added so much to providing for my mother-in-law's comfort while she was there. Thank you so much Highland Meadows for your commitment to excellence!
~ Joe Harris
This facility was recommended to me by my god-daughter after I was in a near fatal head on collision. I was hospitalized for 30 days & not at all thrilled about going into a facility especially since the pandemic hit when I was hospitalized & isolated from my family.
Highland Meadows made all the difference with my road to recovery. The staff made me feel welcome & at home, my appetite returned, the therapy team kept me on my toes & as my god-daughter told me, I rolled in by wheelchair & was able to walk out after just 3 weeks!! God is able & this place is wonderful. Much love to the entire team!!
~ C Smith
Outstanding and compassionate care. My parents moved in during the fall of 2020. COVID season. We were so fortunate to find them. The handling of the pandemic and the wonderful care they received was amazing. Gracen and her staff are remarkable. From the front desk all the way to food and cleaning staff. They cared for my parents like their family members. So grateful to have found this facility.
~ Theresa Tacker
We are so pleased with the personal care and attention we ALL receive here (not only the patient, but the whole family.) Amazing people and facility. So grateful!
~ Amy Chippendale
My Mom was here for several months and the care she was given was wonderful. The staff was always easy to access and so very caring! When we found out she needed to be placed in Hospice this was where we felt she would get the best care along with Hospice's wonderful staff. She passed here June 6,2022 and the aids were so kind and supportive. Thank you
 ~Donna S