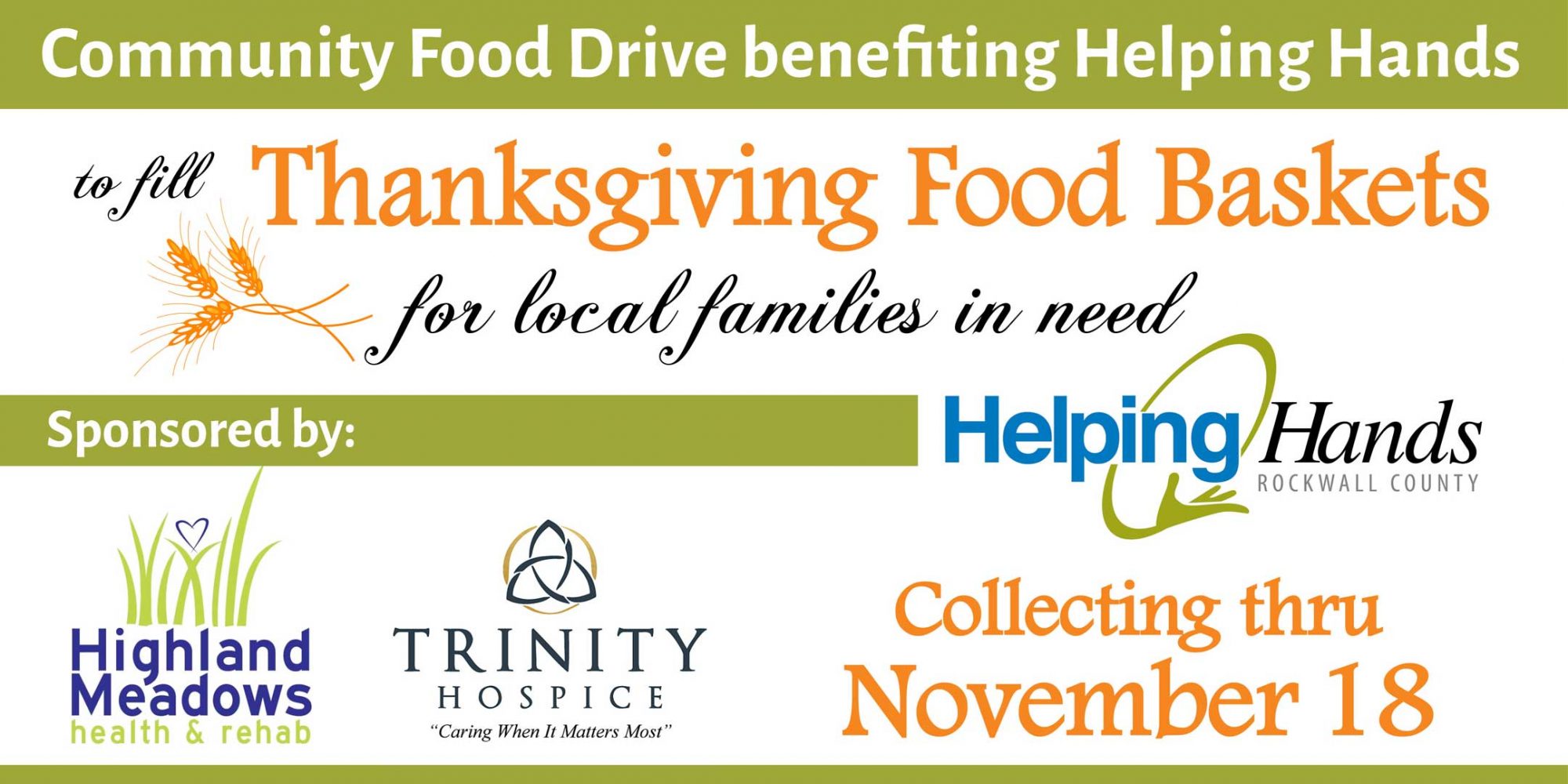 Highland Meadows Health Rehab, along with Trinity Hospice, are sponsoring a Community Food Drive benefiting Helping Hands. Food donations are needed through Nov. 18 to fill Thanksgiving food baskets for local families in need.
Non-perishable items needed include:
>>Dressing/Stuffing Mix
>>Boxed Instant Potatoes
>>Canned Cranberry Sauce
>>Canned Pumpkin
>>Canned Yams/Canned Sweet Potatoes
>>Canned Fruit
>>Soup: Cream of Mushroom or Cream of Chicken
>>Rice
>>Cooking Oil
>>Flour
>>Sugar
>>Sugar
>>White Cake Mix and Frosting
>>Any other non-perishables are encouraged
DROP NON-PERISHABLES THRU NOV 18 AT THESE PARTICIPATING LOCATIONS WHERE HIGHLAND MEADOWS HAS PLACED COLLECTION BOXES:
Brookdale Summer Ridge
3020 Ridge Road, Rockwall 75032
Highland Meadows
1870 S. John King, Rockwall 75087
Iris Memory Care
4906 Miller Road, Rowlett 75088
Rock Ridge
720 E. Ralph Hall Pkwy, Rockwall 75032
Rockwall Community Center
108 E Washington St, Rockwall 75087
Good Life Senior Living & Memory
126 Smirl Drive, Heath 75032
Turkeys, hams, and fresh fruit may be delivered to Helping Hands food pantry, 401 West Rusk in Rockwall. Deliver hams and turkeys by Wednesday, Nov. 16. Deliver fresh fruit by Friday, Nov. 18.