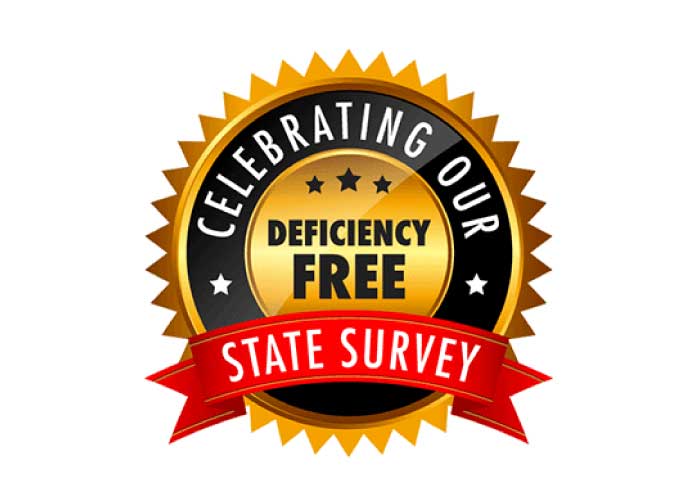 From polices on infection control, hygiene and cleanliness to record-keeping, compliance and care plan reviews, Highland Meadows Health and Rehab, Rockwall's premier skilled nursing and long term care facility, is excited to announce they achieved the exemplary status of 'no deficiencies' following their annual state survey.
All nursing homes that participate in Medicaid and Medicare programs are required to undergo an intensive annual survey and subsequent certification process, overseen by the state Health Department. Multiple surveyors are onsite for several days to conduct these reviews. The state surveys help protect nursing home residents and ensure the facility is providing quality, safe, and effective care. Nursing homes must show they are in substantial compliance with program requirements; and that they meet expectations for the health and happiness of residents. A nursing home's failure to meet a federal participation requirement is defined as a deficiency.
"This speaks to the diligence and dedication of our entire team here at Highland Meadows," said Gracen Hawley, Owner/Administrator. "We are thrilled with the results of the survey, but honestly – we wouldn't accept anything less. We put our patients' care and safety first in everything we do."
The full results of the state survey will soon be available for review at medicare.gov, where consumers can compare nursing homes, hospitals and other providers. It is there that Highland Meadows also recently earned 5-stars, the highest quality rating possible from CMS.gov (Centers for Medicare and Medicaid Services). CMS created the Five-Star Quality Rating System to help consumers, their families, and caregivers compare nursing homes. The overall rating is based on performance of health inspections, staffing, and quality of resident care measures.
Press release originally published on at BlueRibbonNews.com.